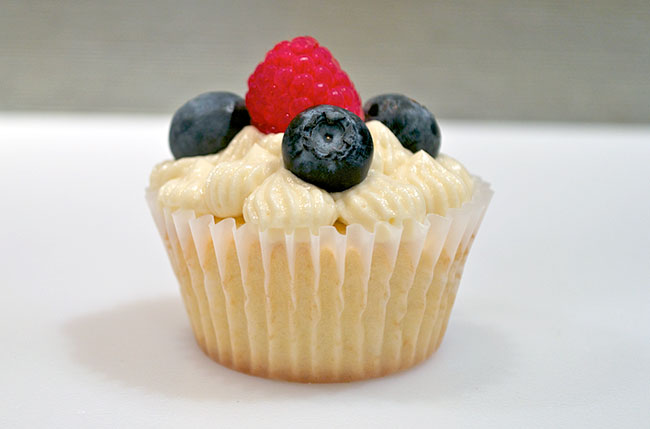 We attended two barbecues on the Fourth of July. Planning a dessert for two different events, at different times, with an age range from toddler to retired, came down to convenience. Cupcakes were ideal. I could take the needed amount to both, and easily make them into something festive for the holiday. Raspberries and blueberries are in season, making a red, white and blue theme both appealing and appetizing. For this recipe I modified the Yellow Cupcake and Buttercream recipes from Baking Illustrated.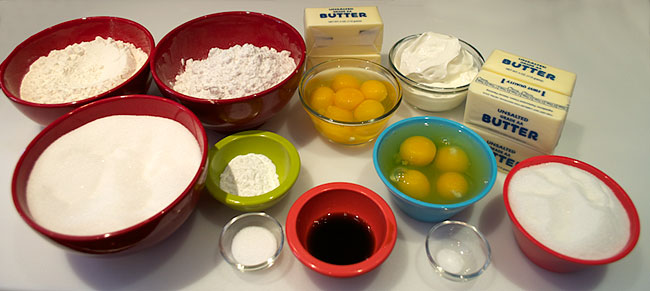 The recipe and detailed instructions are at the end of this post. For this recipe, we need all-purpose flour, cake flour, granulated sugar, baking powder, salt, unsalted butter, eggs, vanilla extract, sour cream, and fruit for decorating. Looks like we have it all. Ready, set, bake…
I doubled the recipe so the above pictures are not representative of the actual quantity needed for the recipe.
In an electric mixers bowl combine the flour, sugar, baking powder, and salt; whisk until combined. Add the butter, egg, egg yolks, vanilla extract, and sour cream. Beat together with the paddle attachment at medium speed until the batter is smooth and satiny. Scrape down the sides of the bowl as necessary.
Line a muffin tin with paper liners. Fill each liner with about three tablespoons of batter. I used a tablespoon cookie scoop, which made each cupcake nearly the exact size. Bake for about 20-25-minutes or until a toothpick inserted into a cupcake comes out clean. Remove from oven and place on a wire rack to cool.
Combine the eggs, sugar, vanilla, and salt in the bowl of your mixer. Place the bowl over pan of simmering water and stir constantly until the mixture reaches 160° F. This goes very quickly, so be sure to stir the whole time and check the temperature often or you will get cooked eggs rather than pasteurized eggs.
Place the bowl on your mixer and whisk on medium for five minutes, until cool. Turn the mixer to low and add the butter one piece at a time. Once all the butter is added the mixture will look slightly curdled.
Turn the mixer on high until the frosting smooths out. Be sure to scrape down the bowl to ensure the butter is incorporated fully. Place the frosting in a pastry bag with a decorating tip of your choice. Pipe about 15 dollops of frosting, covering the top of the cupcake. Top with fruit.
You can store any leftover frosting in the refrigerator, however, it will become hard from the cold temperature. To use again leave the cold frosting at room temperature for about half an hour and whip in the mixer again. If you don't have the time you can place the frosting in a bowl in the sink with warm water around it to loosen it up before returning it to the mixer again.