This is a great bread, it's easy to make, and it performs well. It makes a nice snack all on its own, or toast a slice with a little butter. It makes two loafs, eat one and freeze the other, pre-sliced, to make french toast with, that is if you can keep it around long enough. If you like nuts add them to the cinnamon sugar mixture for added texture and flavor. If you don't like raisins you can leave them out and make a great cinnamon bread, or use similarly sized dried fruits for something altogether different.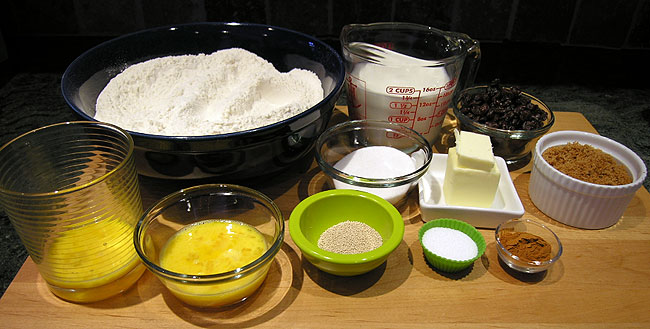 The recipe and detailed instructions are at the end of this post. For this recipe, we need bread flour, active dry yeast, milk, butter, sugar, eggs, salt, raisins, dark brown sugar, and ground cinnamon. Looks like we have it all. Ready, set, bake…
Warm the milk to 100°-110° and dissolve the yeast in the milk. Combine the flours and milk/yeast in a mixer fitted with the dough hook until just combined.
Add the butter, sugar, eggs, and salt. Mix on low speed for four minutes and on medium speed for four more minutes; at one minute remaining in the mixing, add the raisins, and at the last 30 seconds, add the cinnamon, mixing just long enough to create a swirl.
Cover the dough in a lightly greased bowl and let rise until nearly doubled, about one hour.
When the dough has nearly doubled punch down the dough.
Combine the one ounce of brown sugar and cinnamon together in a small bowl. Mix the egg and salt together in a small bowl to make the egg wash. Divide the dough into two equal parts. Roll one part of the dough to the length of your bread pan and about 12 inches long. Cover with egg wash.
Sprinkle the egg washed area with half the cinnamon sugar mixture. Roll the dough up and press the seam together. Repeat with the other dough half.
Place the dough seam side down in greased loaf pans. The dough should spring back on itself slightly and fit snugly in the pans. Proof, covered, until the dough nearly doubles in size, 1 1/2 to 2 hours.
Mix the egg and salt together in a small bowl to make the egg wash. Gently brush the loaves with the egg wash. Bake at 350° (191° C) until the crust is a rich golden brown and the sides of the bread spring back when pressed, 25 to 30 minutes. Remove the bread from pans and cool completely on a rack.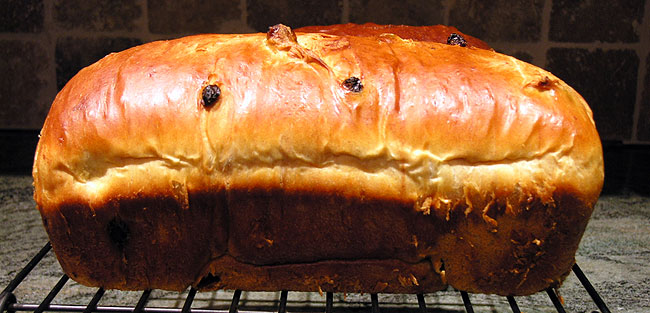 If you want to check out some amazing breads, be sure to check out YeastSpotting on the Wild Yeast blog.