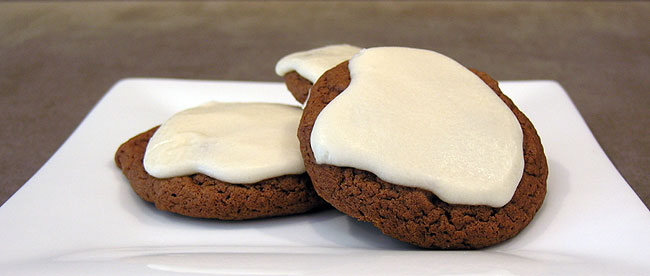 About every six months Mark asks for some kind of molasses drop cookie. They remind him of being a kid. He usually asks for the kind with white frosting on them, but that's about the only guidance I glean from him. This time he emailed me links to several recipes, which I dissected and made my own by combining two recipes and changing the techniques used. These come very close to the cookies he remembers.
The chocolate is more flavorful than the molasses in these cookies. They are soft, tender and hold up fairly well outside the refrigerator for a few days. The only cravat – the icing will stick to the other cookies when stacked. If all the cookies aren't going to be eaten right away, frost them half an hour before serving them, or if you prefer, skip the frosting and dust them with confectioners sugar instead.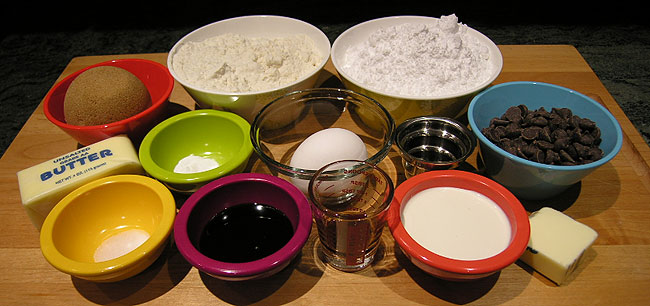 The recipe and detailed instructions are at the end of this post. For this recipe, we need semisweet chocolate chips, unsalted butter, all-purpose flour, baking soda, salt, dark brown sugar, an egg, dark molasses, vanilla extract, and milk. Looks like we have it all. Ready, set, bake…
Melt the chocolate chips and butter in a heat-resistant bowl over a double boiler. Remove from heat to cool. In a medium-sized bowl, whisk together the flour, baking soda and salt.
Stir the dark brown sugar, beaten egg, molasses and vanilla extract into the cooled chocolate mixture.
Add flour mixture to the chocolate mixture, stir until just combined. Place the dough, by tablespoon, on a parchment-lined baking sheet, two inches apart. Bake for 12 minutes or until tops begin to crack and cookies are still soft to the touch. Cool on the baking sheet for five minutes; then transfer them to a wire rack.
For the icing, mix the confectioners' sugar, butter, and vanilla in a small bowl. Add the milk one tablespoon at a time until it is spreading consistency. Drop a tablespoon of the icing on each cookie and allow to dry. Be sure to have parchment paper underneath the wire rack to make clean up easier. The frosting will not dry solid but rather dorm a solid skin over the top.