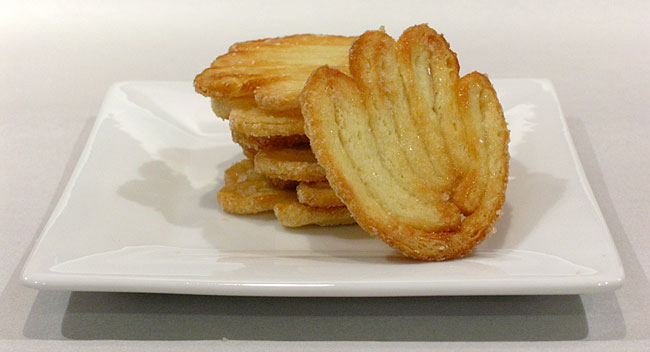 Around the time I finished high school I worked at a French Bakery (La Batelle) in Bellevue Square. Every morning I'd arrive to the great smell of fresh breads and pastries. One of my favorite treats was a warm palmier. These cookies are crisp, sweet, and have a slight caramel undertone. One thing I didn't learn at the bakery is how much better the homemade version of these are in comparison to the common bakery version. Seriously yummy.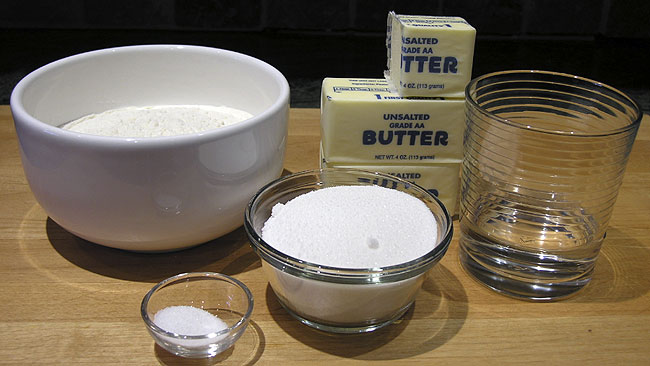 The recipe and detailed instructions are at the end of this post. For this recipe, all we need is five ingredients; bread flour, butter, sugar, salt, and water. Looks like we have it all. Ready, set, bake…
We're going to start by making a quick puff pastry, which is similar to pie dough, only the butter is left in thicker pieces that will fold, to create the lamination, without multiple rest periods.
Place the flour in a mixing bowl with the dough hook attachment. Cut the butter into two-inch pieces, add to the flour on low speed until slightly larger than pea size pieces of butter remain. Dissolve the salt into the water.
Add the salt water to the flour mixture and mix until just combined. Shape dough into a square and allow to rest for ten minutes. The dough will feel rather dry at this stage, resting will allow the moisture to incorporate into the flour.
Roll the dough out to half an inch thick in the shape of a rectangle. Give the dough three single turns (one complete single turn is illustrated in the first three images above), followed by one double turn (illustrated in the last three images above).
Roll the dough in the sugar, using the sugar on the top and the bottom to keep it from sticking. Be sure to turn the dough as your rolling and spread more sugar underneath and on top of the dough. Roll to a rectangle 24 x 12 inches (60 x 30 cm) and 1/8 (3 mm thick). Trim the dough to this shape.
With the dough placed horizontally in front of you fold the long sides of the rectangle in to meet the center. Fold in crosswise to bring the two short sides together on the right side. Using a rolling pin or dowel, make a deep indentation down the center horizontally. Fold along this indent and refrigerate for 30 minutes.
Cut the folded strip into 1/8 inch (3 mm) thick strips. Place the cookies on a sheet pan lined with parchment paper.
Bake at 425°F (219°C) until the sugar starts caramelizing, about eight minutes. Remove the pan from the oven and turn each cookie over using a spatula. Return the pan to the oven for three to four minutes, until the cookies top have started to caramelize.