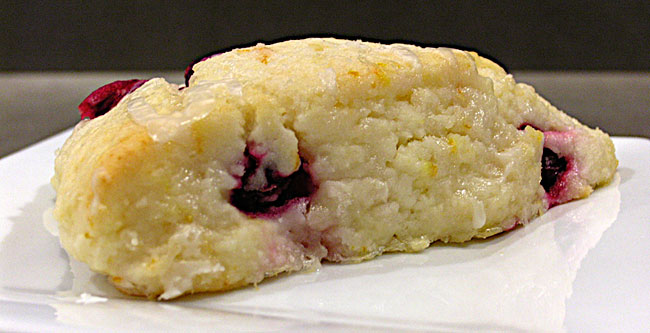 I've had a bad cold/flu for the last four weeks; fever, sore throat, runny eyes, upper chest and sinus congestion. That's my excuse for not posting more often. Now that I can breathe, through my nose, I hope I can think clearly enough keep on top of the posts!
I'm also starting to modify more recipes, making them gluten-free. This one turned out great. The flavor and the texture closely resemble the original scone. It's a fairly easy recipe to modify, you can change the fruit content and add nuts. Leaving the sugar glaze off will result in a drier and lightly sweetened tasting scone. If you don't want a glaze but wish to retain sweet scone add half a cup o granulated sugar to the flour mixture.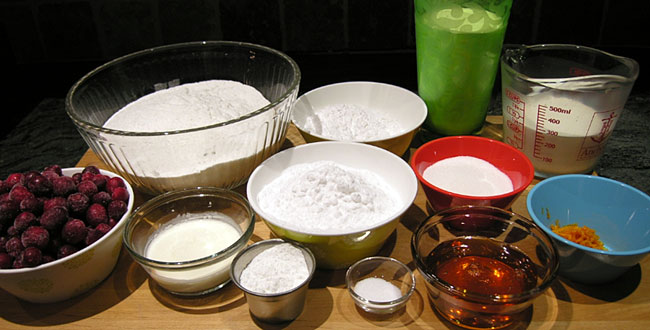 The recipe and detailed instructions are at the end of this post. For this recipe, we need cranberries, orange zest, white rice flour, potato starch flour, tapioca flour, granulated sugar, baking powder, salt, heavy cream, honey, confectioners sugar, milk, and vanilla extract
. Looks like we have it all. Ready, set, bake…
Combine the flour, sugar, baking powder, and salt in a bowl. Be sure to mix them well. Usually when making a quick bread, like a scone, overworking the flour develops the gluten too much and makes the finished product tough. This is not the case with gluten-free baking.
Thoroughly mix the orange zest into the flour mixture. Reserve 1/8 cup (30 ml) of the cream. Combine the remaining cream with the honey, cranberries, and the dry ingredients, until combined.
Form the dough into two equal sized logs and cut into the desired number of triangles. Place triangles on a parchment paper-lined baking sheet. Using the reserved cream and a pastry brush, cover the tops of the scones and then sprinkle with sugar.
Bake at 425°F (219°C) for about 15 minutes. Cool on a rack over a sheet of parchment paper. Mix the confectioners' sugar, milk and vanilla extract in a small bowl until thin but not runny. Use a spoon to drizzle over the scones. Allow to dry slightly before serving. These are not overly sweet, if you decide not to cover the scones with this sugar glaze, you may want to add about half a cup of sugar to your flour in the beginning.