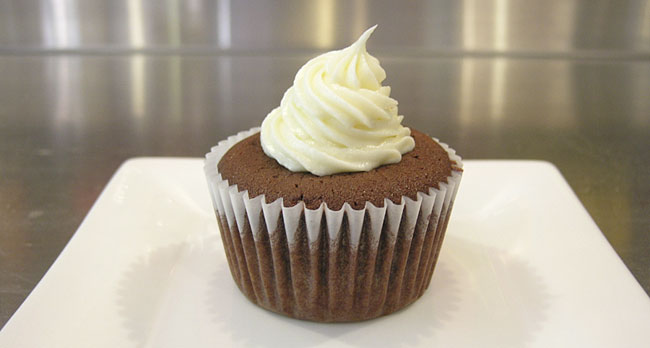 Everyone needs a good standby recipe for chocolate cupcakes. This one is mine. I have made these probably 20 times, and they're always a hit. They are dense, moist and creamy. Those with dairy allergies are out of luck, they contain a fair amount of butter, sour cream, and cream cheese (believe me, they're worth the calories). They will keep refrigerated for up to five days, however, that's assuming you have any left. The only time I did have leftovers is when I made over 100 cupcakes for Mark's birthday party last year, and even then they were gone the next day.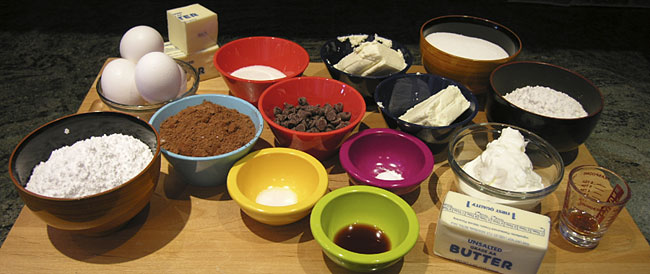 The recipe and detailed instructions are at the end of this post. For this recipe, we need unsweetened cocoa powder, cake flour, baking powder, salt, unsalted butter, granulated sugar, eggs, vanilla extract, sour cream, semisweet chocolate chips, and powdered sugar. Looks like we have it all. Ready, set, bake…
Into a medium bowl, sift together cocoa powder, cake flour, baking powder, and salt; reserve for later. If you don't own a sifter, or you prefer not to use one, you can place the ingredients in a bowl and use a whisk to combine the ingredients.
In a mixing bowl fitted with the paddle attachment, cream butter, and sugar until light and fluffy. This will take about 4-5 minutes at room temperature butter. It's important to get the butter and sugar creamed thoroughly for the texture.
Add eggs, one at a time, beating well after each, then beat in vanilla. If you don't add the eggs one at a time your mixture will become lumpy, something we don't want to happen.
With the mixer on low speed, add flour mixture in two batches, alternating with sour cream and beginning and ending with flour (flour, sour cream, flour). Make sure you mix at a low speed or you will end up with flour all over your kitchen.
Place chocolate in a heat resistant bowl over simmering water and stir until melted. Whisk in the cream cheese until smooth. Add the egg and whisk until incorporated.
You can just mix the chips with the cream cheese if you wish, rather than melting the chocolate. This will produce a white filling with more of a cream cheese flavor.
Line a 12-cup standard muffin tin with paper liners. Pour batter into cups, filling each 1/3 full. Spoon one tablespoon of the cream cheese filling into the center of each cup. Fill each cup to about 2/3 full of the cupcake batter over the filling. Bake until a toothpick inserted in centers comes out clean, 20-to-25 minutes. Cool in pan for 5 minutes; transfer to a wire rack to cool completely.
Place the cream cheese and butter in a mixer fitted with the whisk attachment. Whisk until thoroughly combined. Add the vanilla extract and powdered sugar. On a low setting whisk until creamy and smooth, be sure to scrape down the sides of your bowl a couple times. Place frosting in a pastry bag with a tip of your choosing and decorate each cupcake.