Our neighbor Karen is on her second round of serving in the Peace Corps. She recently returned for a three month break and headed back to Lesotho a week ago. As a parting gift I asked her what kind of cookies she would like. She asked for Molasses Drop cookies with thick creamy frosting. I've made a chocolate version before, so this should be easy, I thought.
I went through every cookbook I have, even those sold by high schools and charity groups. None had a Molasses Drop cookie recipe. I scoured the internet and found about 20 different recipes, none of them looked like what I wanted. So, I took the best from about five different recipes and created my own.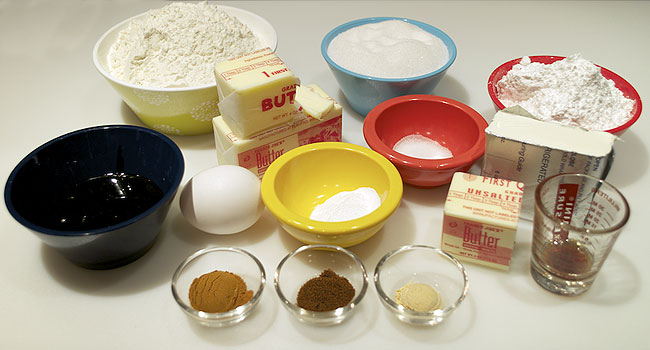 The recipe and detailed instructions are at the end of this post. For this recipe, we need butter, granulated sugar, egg, molasses, all-purpose flour, baking soda, salt, ground cinnamon, ground cloves, ground ginger, cream cheese, powdered sugar, and vanilla extract. Looks like we have it all. Ready, set, bake…
In a mixing bowl fitted with a paddle attachment, beat the butter and granulated sugar until light and fluffy (just short of creaming, the longer you mix these the flatter the cookies will become). Add the egg and mix until just combined.
Mix in the molasses until combined. Be sure to scrape down the sides to make sure all the ingredients are being mixed together. Mix in the flour, baking soda, salt, cinnamon, cloves, and ginger until smooth. Don't over mix the flour or your cookies will become overworked and dense.
Using a spoon or cookie dough scoop place about 12 balls of cookie dough, spaced two inches apart, onto parchment paper-lined baking sheets. Each dough ball should be around one and a half tablespoons in size. I use a cookie dough scoop and a spatula to level the scoop so that the amount its the same each time. This ensures uniform size and even baking.
Bake for about 10-to-12 minutes until tops are cracked, cool on baking sheet for five minutes before transferring to a wire racks. The cookies are tender and will fall apart if removed from the baking sheet before they have cooled off a little.
In a mixing bowl fitted with a whisk, beat the cream cheese, powdered sugar, butter, and vanilla until smooth. Be sure to scrape down the bowl a couple times to avoid lumps of butter and/or cream cheese. Spread frosting on the cookies using a small spatula. These are moist cookies, you may want to frost them right before serving them if you're making them ahead of time.