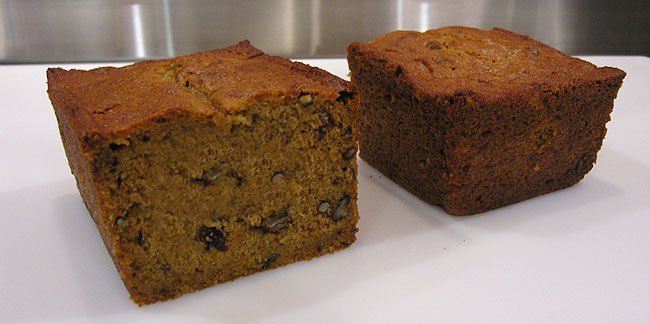 Last fall I pureed some fresh pumpkin and froze it to use later. It will last about 6-to-8 months in the freezer and can be used in pies, breads, and muffins. I prefer fresh, or even frozen, pumpkin puree over canned, however any non-spiced, pureed pumpkin will work in this recipe.
It took a couple tries to come up with this recipe. The key is in the flours. The white rice and the tapioca make a tender yet dense crumb that is identical to the wheat-filled versions of pumpkin bread. I couldn't tell the difference and a gluten intolerant neighbor agreed, saying it was the best pumpkin bread she had ever tasted.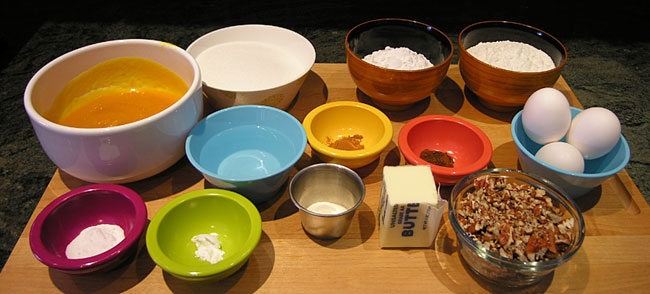 The recipe and detailed instructions are at the end of this post. For this recipe, we need unsalted butter, granulated sugar, eggs, pureed pumpkin, water, white rice flour, tapioca flour, xanthan gum, baking soda, baking powder, cinnamon, cloves, nutmeg, and pecans. Looks like we have it all. Ready, set, bake…
In a mixing bowl fitted with the paddle attachment, cream the butter and the sugar until light and sandy in texture. There is more sugar than butter resulting in the sand-like texture that is not typical when creaming. Mix in the eggs until fully incorporated.
Stir in the pureed pumpkin and the water until just combined. You can use fresh or canned, just make sure if using canned it does not have added spices. If it does have spices leave out the the spices in this recipe. Blend in the spices, baking powder and soda, and flours until smooth.
Mix in the nuts until evenly distributed. If you don't like pecans you can leave them out or use walnuts or some other nut. Pour into a greased, paper-lined bread pan. I find the paper helps in removing the bread after it's baked, however, it's not essential.
Bake at 350° (180° C) for 70-to-80 minutes, or until the top springs back when touched. Be careful to make sure it is baked all the way, as returning it to the oven once it's cooled will not finish the baking process properly and leave you with a wet and gooey center..
Cool on a rack before removing from the pan.