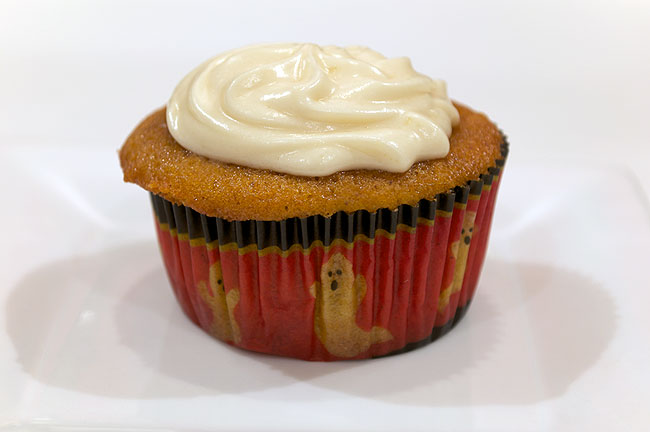 For Halloween this year we handed out candy from our decorated driveway. In an effort to be festive we invited friends and neighbors to stop by and enjoy the festivities. I made these cupcakes and some sugar cookies to hand out to neighbors. Usually, the kids won't take unwrapped food – however, that was not the case this year. By the end of the night all the baked goods and the majority of the candy was gone.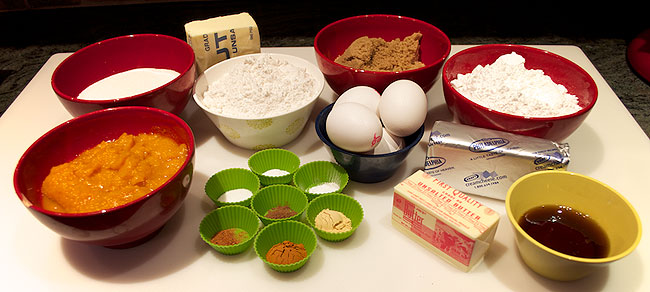 The recipe and detailed instructions are at the end of this post. For this recipe, we need cake flour, baking soda, baking powder, salt, cinnamon, ginger, nutmeg, allspice, light-brown sugar, granulated sugar, unsalted butter, eggs, pumpkin puree, cream cheese, confectioners sugar, and maple syrup. Looks like we have it all. Ready, set, bake…
We need two bowls for this recipe, one medium sized and one large. Using the medium sized bowl, whisk together the flour, baking soda, baking powder, salt, cinnamon, ginger, nutmeg, and allspice until smooth. Reserve for later.
Whisk together in the large bowl the brown sugar, granulated sugar, melted and cooled butter, and the eggs.
Add the dry ingredients to the wet ingredients in the large bowl, whisk until smooth. Whisk in the pumpkin puree.
Divide batter evenly among cupcake liners in a muffin tin, filling each liner no more than two thirds full. I used a cookie scoop and fill each liner with three scoops, about 4 1/2 tablespoons. Bake at 350° until a toothpick inserted in the center comes out clean, 25-30 minutes. About five minutes after removing the tray from the oven transfer to a cooling rack. The cupcakes are easier to remove from the muffin tin when they are cooled slightly.
For the frosting use a mixer fitted with a paddle attachment and beat the cream cheese, butter, and maple syrup on medium until fully combined. Beat in the confectioner's sugar on low until smooth. Decorate as desired. I went simple opting to just top the cupcakes with the frosting. It was dark so no one would notice any decorations, I was running out of time, or being lazy, take your pick! Either way, they tasted great.