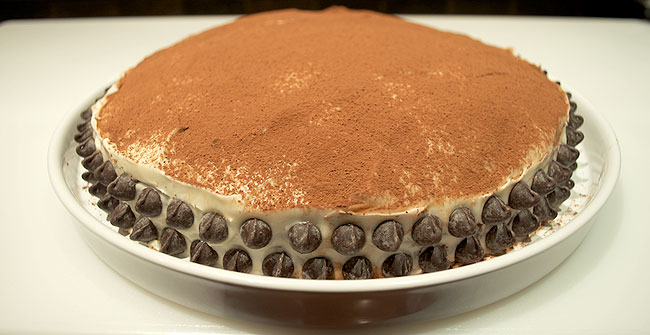 This cake resembles a traditional chocolate cake that is airy, moist and sweet, only without gluten. It's an excellent base for any chocolate cake. The best part is how easy it is to make. It only takes about 10 minutes to throw it all together. The hardest part is making sure you have the ingredients, which any Wholefoods or alternative market should have in stock.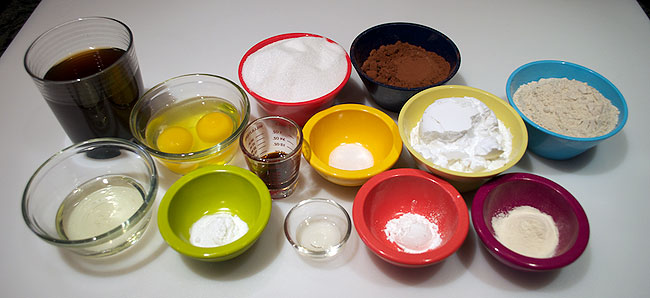 The recipe and detailed instructions are at the end of this post. For this recipe, we need sorghum flour, potato starch, unsweetened cocoa powder, granulated sugar, salt, baking powder, baking soda, xanthan gum, warm coffee, eggs, vegetable oil, vanilla extract, rice vinegar, Cream Cheese Frosting, and Chocolate Chips. Looks like we have it all. Ready, set, bake…
Whisk together the dry ingredients. Add the wet ingredients and beat the batter until all the ingredients are incorporated and the batter is smooth.
Line a 9-inch cake pan and fill with the batter. Bake for about 25 minutes, or until a toothpick inserted in the center comes out clean. Allow cake to cool completely in the pan before removing it from pan. Aat this point you have a great gluten-free Chocolate cake sponge that can be used with any frostings or decorations you wish.
Using a serrated knife slice the cake sponge in half horizontally. Place enough cream cheese frosting on the top of the bottom slice to create about a third of an inch thickness and spread the filling out evenly. Place the top slice on the top of the cream cheese filling.
Create a crumb coat by covering the top and sides of the cake with some frosting. Place the cake in the fridge long enough to for the frosting to harden slightly. Cover the crumb coat with the remaining frosting. The process of a crumb coat ensures none of the dark cake sponge crumbs are visible when the final layer of frosting is applied.
Cut a circle on a piece of parchment paper that is slightly smaller than the cake round and set over the cake. Gently sift cocoa powder over the top. Carefully remove the paper and decorate the sides of the cake with chocolate chips.