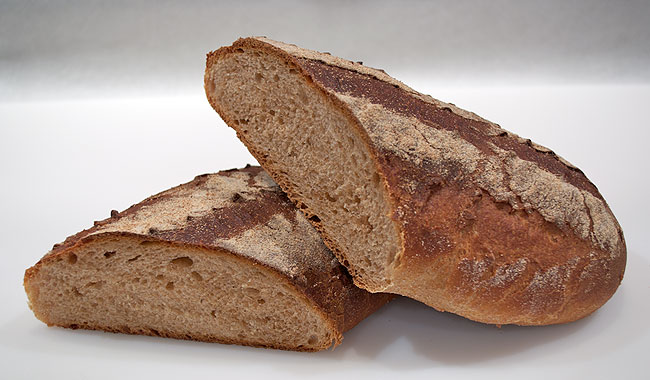 There is nothing in the world like the smell of freshly baked bread. Unfortunately, there is no way of embedding the smell into a webpage. This bread not only smells wonderful but taste amazing. This picture is deceiving, each piece is about six inches long.
I used this bread as the base for an open face tuna melt, french toast, and as sandwich bread. All three were really good uses. It's also great on its own, toasted, or with some jam or butter. I will definitely be making this one again.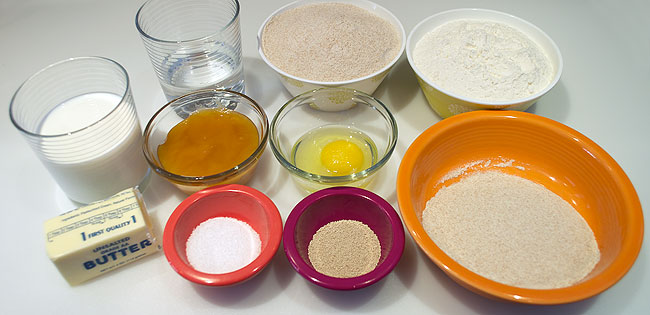 The recipe and detailed instructions are at the end of this post. For this recipe, we need milk, kosher salt, honey, unsalted butter, active dry yeast, warm water, whole wheat flour, bread flour, an egg, and table salt. Looks like we have it all. Ready, set, bake…
The original recipe called for table salt. I replaced it with kosher salt, which can easily be done by weight. I highly recommend a scale for weighing ingredients. If you don't have one and want to use table salt reduce the total volume by a third (or in this case use two teaspoons). In a saucepan combine the milk, kosher salt, and butter. Bring to 115°F (46°C). Set aside. Don't get it hotter than this or it will kill the yeast.
In a mixing bowl, fitted with the dough hook, dissolve the yeast in the warm water. Use a whisk to quicken the time needed to dissolve the yeast.
Add the milk mixture, whole wheat flour, and all but about 1/3 a cup if the bread flour. Mix at low speed, for about 8 minutes, add the reserved bread flour if needed. I added mine in at about two minutes when I could see the dough was still sticking to the sides of the bowl a lot. This is a wet and sticky dough at first so don't over do it on the flour. The dough should reach a smooth, elastic, glutinous consistency, but will still be a little wet.
Cover the dough with plastic wrap and place in a warm spot until it has doubled in volume. It was a nice warm sunny day here in San Diego, I placed mine in a sunny window. I also sometimes place it on top of the stove or in the oven that's been pre-heated to 200°F and turned off for 10 minutes. Punch down the dough, I used a little flour to keep the dough from sticking to my hand. Cover, and allow to double in volume again.
Once the dough has doubled in size again punch it down and divide the dough evenly into two portions. Flatten with your hands into a 12 by 6-inch square. It does not have to be perfect.
Roll up the dough and seem it on the underside. Place both loaves on a baking sheet. Mix the egg and the 1/8 a teaspoon of salt and coat the dough with it. Sprinkle whole wheat flour over the top.
Allow the loaves to rise until they are almost double in volume. Using a sharp knife make three slash about 1/4 an inch deep lengthwise on each loaf.
Bake for 10 minutes at 410°F (210°C). After each minute spray water into the oven on the bread for about 5 seconds. Reduce the temperature to 400°F(205°C) continue baking for 30 minutes, until dark golden brown. Cool on a rack.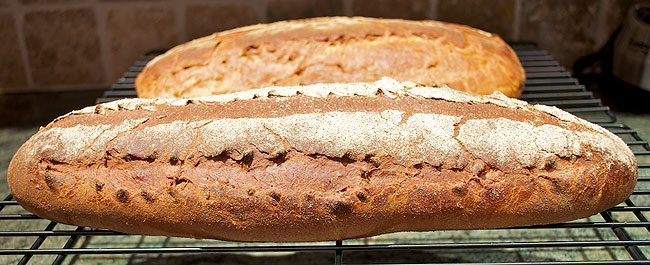 If you want to check out some amazing breads, be sure to check out YeastSpotting on the Wild Yeast blog.