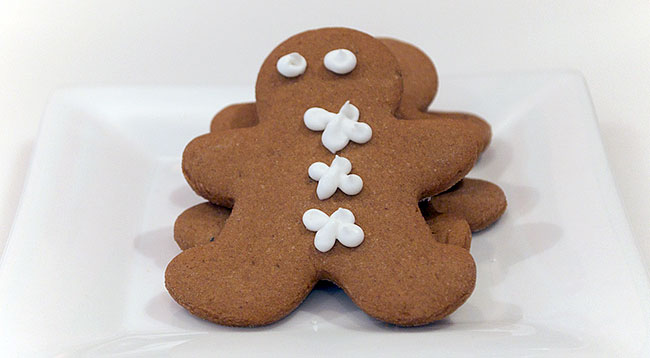 I had an art teacher in college that changed every pronoun to a gender-neutral term. Craftsmanship became craftspersonship, I'm sure you get the picture. Gingerbread Men, Gingerbread People, whatever, I just call them cookies.
You can go all out and put clothes and all sorts of decorations on the cookies. I prefer mine with minimal decoration and slightly undercooked, making them soft and chewy. If you're using them for tree decorations you can leave out the spices and save some money.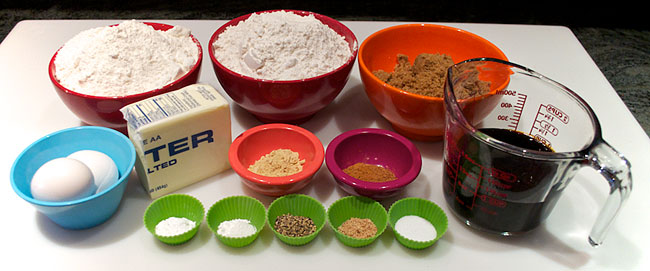 The recipe and detailed instructions are at the end of this post. For this recipe we need all-purpose flour, unsalted butter, dark-brown sugar, baking soda, baking powder, ground ginger, ground cinnamon, nutmeg, black pepper, salt, eggs, and unsulfured molasses. Looks like we have it all. Ready, set, bake…
In a bowl, whisk together flour, baking soda, and baking powder; reserve.
In a mixer fitted with the paddle attachment, cream the butter and sugar until light fluffy. Mix in spices and salt. If you are grinding your own spices be sure to use the finest setting possible for greater flavor.
Mix in the eggs and then the molasses. Both the eggs and the molasses should be rum temperature, if they are not they will not incorporate correctly with the butter.
Add the flour mixture in thirds on low speed until combined. The main reason to add in thirds at a low speed is to keep the flour from going all over your kitchen. If you have a mixer that has a top to stop the flour from going everywhere you can add it all in at once.
Divide dough into thirds, wrap each part in plastic. Refrigerate for at least one hour. You can make the dough up to three days ahead of time and keep in the refrigerator until your ready to cut out your cookies.
Place one of the divided dough sections on a lightly floured work surface.
On a lightly floured work surface, roll dough 1/8-inch thick. If the dough is too cold it will crack around the edges, gently squeeze the cracks together and use the rolling pin over the dough to correct. Cut into shapes then transfer to a parchment-lined baking sheet. Refrigerate for 15 minutes. If you don't refrigerate the cut out cookies they will spread and lose their shape while cooking.
Bake for 9-13 minutes at 350°F, or until slightly brown around the edges. Cool cookies on wire racks. Decorate with royal icing.