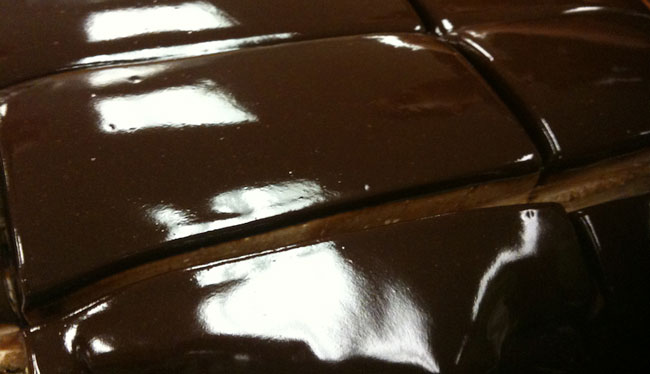 Cakes Week Four
The final week of cakes in the Bakeshop Skills class. The majority of the lecture was focused on how to assemble and make Opera Cake. The cake makes a nice roundup of all the techniques and science we studied so far. We also covered decorating with Fondant and a molded mouse cake.
Opera cake is a layer cake that consists of three layers of sponge that are soaked with coffee cake syrup, two layers of mocha buttercream, and a layer of chocolate ganache topped with a chocolate glaze. In order to assemble the cake we dealt with tempting the sheet cake on a cake board, the Swiss method of buttercream, how to make ganache and a glaze, and how to properly slice the cake. Techniques used in making the cake included folding, making nut flour, tempting on a sheet pan, and creaming. To make the buttercream the techniques covered were tempering of egg whites, making a meringue and the proper way to apply buttercream to a cake.
We also learned how to apply fondant to a cake as well as how to create simple decorations using fondant. The fondant was prepared in class a few weeks back. We created a mousse layered cake using molds and a checkered cake base that used a template for the design.
Heres what we made: