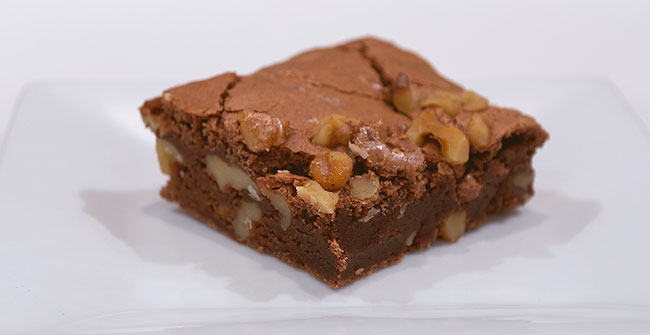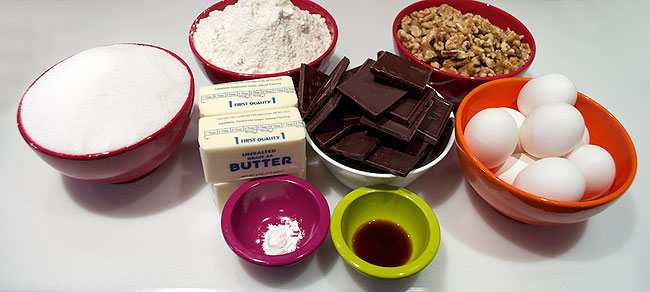 The recipe and detailed instructions are at the end of this post. For this recipe, we need walnuts, bittersweet chocolate, unsalted butter, granulated sugar, eggs, vanilla extract, bread flour, and baking powder. Looks like we have it all. Ready, set, bake…
Place the chocolate and butter in a heat-resistant bowl, and melt together over a water bath. The water in a water bath should be simmering not boiling. Set the chocolate aside to cool so that it does not cook the eggs when they are combined later.
Whip the sugar, vanilla, and eggs at high speed until light and fluffy. The fat in the egg yolk will prevent the egg whites from forming peaks, so we're looking for a light airy mixture rather than a specific peak.
Fold the cooled chocolate into the egg mixture.
Sift the flour with the baking powder into the mixture and fold into the chocolate. You will want to do about a third of the flour at a time between folding it in.
Fold in 12 ounces of the walnuts. If you want to add anything else you can fold it in at this point as well; the original recipe had an option of raisins, which I assume most Americans would rather skip!
Spread the batter evenly in a half-sheet pan lined with parchment paper. Sprinkle the remaining 2 ounces walnuts over the top.
Bake at 400°F for about 30 minutes or until completely set, but still slightly soft to the touch. Let cool, then slice into serving size pieces. After the brownies have cooled I turn the half sheet over on a cutting board and remove the paper before slicing. This will help keep your pan in good condition by not cutting it, it will also help with uniform portion sizes by portioning the whole pan at one time.