Marzipan is a combination of sugars and almonds that have been crushed to a powder. It's used as a filling, frosting, and even candy. When I lived in Norway I would eat Marzipan straight from the tubular packaging it came in at the grocery store. Scandinavian countries use Marzipan molded in the shape of a pig around the holidays as a special treat. A rice pudding is served with a single hidden almond in the pudding. The child who discovers it wins a marzipan pig. The pig represents wealth since in old times the amount of livestock a family owned determined its wealth.
Marzipan is very flexible and can be used in many ways, as you can see from these pictures from Wikimedia Commons:
Rather than show how to make Marzipan every time it is used in a recipe, I have decided to make one master post on it and link back to this post when it is used. This is a fairly simple process if you have the right equipment. If you do not have a food processor you can purchase Marzipan in most grocery store's baking aisle.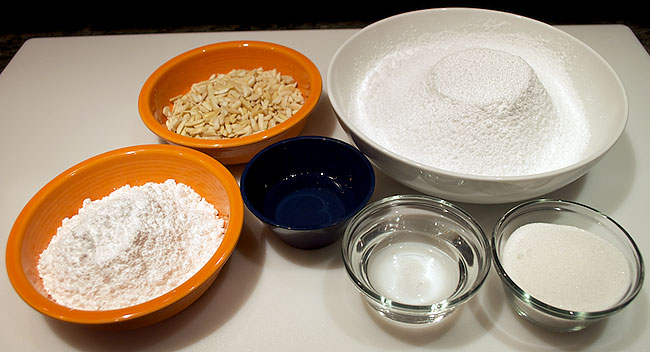 The recipe and detailed instructions are at the end of this post. For this recipe, we need granulated sugar, water, dry blanched almonds, powdered sugar, and light corn syrup. Looks like we have it all. Ready, set, bake…
First we are going to make simple syrup, which is fifty percent water and fifty percent sugar. You can buy this at the grocery store, however its very expensive considering it's ingredients.
Bring the water and granulated sugar to a boil for 30 seconds in a small saucepan. Allow to cool and reserve. Don't boil this longer than needed because it will lose water content the longer it boils.
Place the almonds in a food processor and process to a powder. Be careful that you do not process too long and create almond butter.
Mix in 5 1/2 ounces powder sugar. With the machine running, gradually add the reserved sugar water and mix until a paste is formed. The simple syrup needs to cool to room temperature or barely warm before adding it. You may not need to add all the simple syrup if your almonds have recently been blanched and contain some residual moister.
In a mixing bowl fitted with the hook attachment, mix the paste with the corn syrup at low speed until combined. Be use to use a non-reactive clean mixing bowl. Marzipan is white and will show any dust or reaction to metal.
Add the 1 pounds sifted powdered sugar a little at a time. I use a cup and do about four additions.
Scrape down the sides of the bowl as necessary until a smooth dough has formed. Store in an airtight container. This will keep for a long time when airtight. Marzipan does not need to be refrigerated.