Chocolate and nuts make one of the best combinations. This recipe originally called for pine nuts, however, Mark has a thing for cashews. You should be able to change out the cashews for about any other nut you like with good results. The same is true of the orange liqueur and apricot jam. If you don't like orange, switch out the liqueur and jam to raspberry extract and jam, or any other combination that you like. If you don't use alcohol in your baking feel free to replace it with an extract of your choice (just be sure to add some water to make the same volume of liquid called for in the orange liqueur).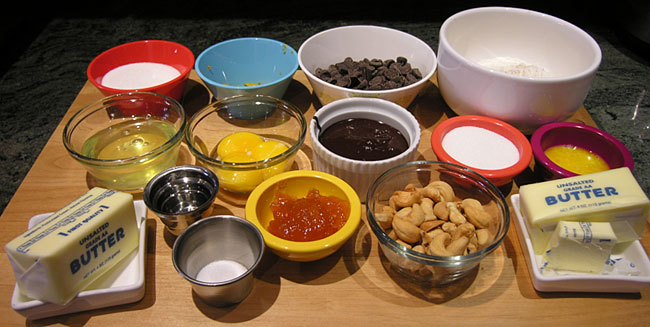 The recipe and detailed instructions are at the end of this post. For this recipe, we need granulated sugar, unsalted butter, eggs, vanilla extract, bread flour, semisweet chocolate, zest of an orange, toasted cashews, orange liqueur, salt, apricot jam, and ganache. Looks like we have it all. Ready, set, bake…
Combine the sugar, butter, egg, and vanilla in a mixing bowl; with the dough hook, mix at low speed until combined. Add the flour and mix until the dough is smooth.
Flatten the dough between two pieces of parchment paper and press out as flat as possible. Refrigerate for at least 30 minutes, or until firm enough to work with. Roll out the dough to 1/4 inch thick and line an 11-inch diameter tart pan. Reserve in the refrigerator (it must be cold before filling).
Put the chocolate, butter and orange zest in a heat-resistant bowl. Melt together over a double boiler. Set aside and keep warm. Grind the cashews with one and a half ounces of sugar to a fine flour-like consistency. If you grind too much you will end up with cashew butter, so be careful not to grind past the flour stage.
Whip the egg yolks to the ribbon stage and mix in the orange liqueur.
Whip the egg whites and the salt to a foam. Gradually add the sugar and whip to soft peaks.
Combine the nut mixture with the chocolate. Add the egg yolks.
Fold in the egg whites. Spread the apricot jam over the bottom of the cold dough-lined tart pan.
Pour the chocolate mixture into the lined and jam covered crust. Bake at 350°F (175°C) for about 35 minutes. Let the tart cool. Remove the tart from the pan. Warm the ganache until it's melted and liquid, then spread it quickly over the top of the tart. Sprinkle the remaining cashews over the top and allow to set.
Use any ganache you like. I used the ganache I posted last week (5/05/2010).