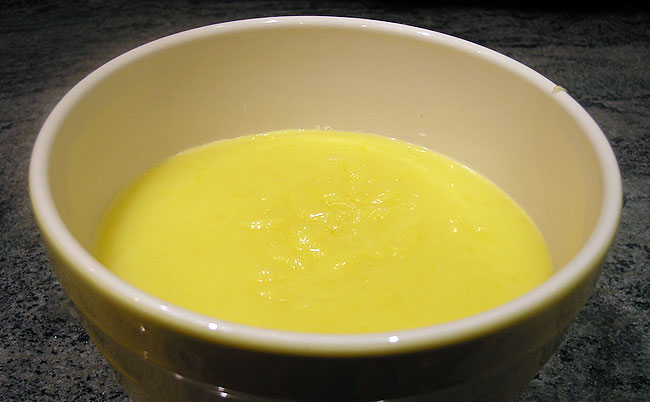 Lemon Curd is a new discovery for me. I had no idea what it was, or how good it is. This is an intensely flavored loose curd that can be used as a filling or a topping. If you're like me, you may even eat it with a spoon all by itself.
There are several ways to make lemon curd. I've combined a couple different techniques to a basic recipe. Don't be afraid to try different flavors of this as well, be it another citrus fruit or raspberries. Just adjust the sugar amount to your tastes for fruits that are not as strong as lemons or add more for any that are stronger in flavor. Freshly squeezed juice works best.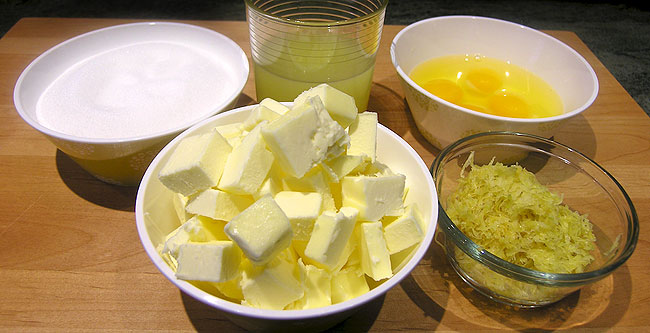 The recipe and detailed instructions are at the end of this post. For this recipe, we need granulated sugar, unsalted butter, eggs, lemon juice, and lemon zest. Looks like we have it all. Ready, set, bake…
In a mixer with the paddle attachment, cream the butter and sugar until light and fluffy. Beat in the eggs slowly, one at a time until smooth.
This is a technique I read about online that is supposed to do away with any lumps in the curd. Basically, the eggs are combined with the butter which in theory should keep the egg whites from cooking too fast, which can cause lumps. It worked for me.
Mix in the lemon zest and juice until combined. Pour into a heat-resistant stainless steel or glass bowl. It's a big mess of separated butter and liquid at this point. Once it is put on the heat it will quickly come together once the butter starts to melt.
Over a water bath, stirring constantly, heat the mixture to boiling over low heat. Cook for a few seconds, stirring constantly until the curd thickens. Depending on how well your bowl conducts heat this can take from 10 minutes to half an hour. The better the bowl conducts heat the faster it cooks. If your using a metal bowl be sure it's stainless and not aluminum, or your curd will turn colors.
The color of the curd does change during the cooking process. My camera picked that up a little too well – it was not as intense as it appears in the photos above.
Lemon curd will keep for up to four weeks, covered, in the refrigerator or up to a year in the freezer.