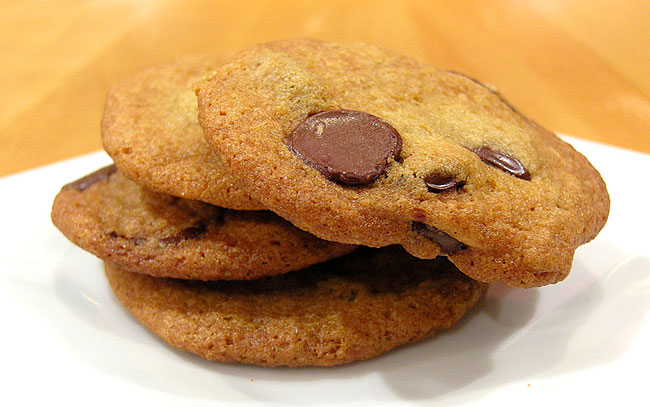 Cookies are made of butter and love. ~Norwegian Proverb
I can't stand store-bought cookies, especially chocolate chip. Chips Ahoy, Soft Batch, you name it, they all fall flat for me in flavor and texture. Being a child of the 80's I usually go for soft, melt in your mouth, chocolate chip cookies. However, as I've gotten older I've expanded into some of the more crisp varieties.
This recipe is from Baking Illustrated
. It's an interesting baking book, each recipe starts with what they were trying to accomplish in regards to texture, mouth feel, flavor etc. I really enough how it tells of mistakes and different methods they used to accomplish what they deemed the perfect baked good. In this case, they wanted to make a thin crisp cookie that had great buttery and caramel flavors and retained its crispness, while physically creating a cookie that is as thin as possible.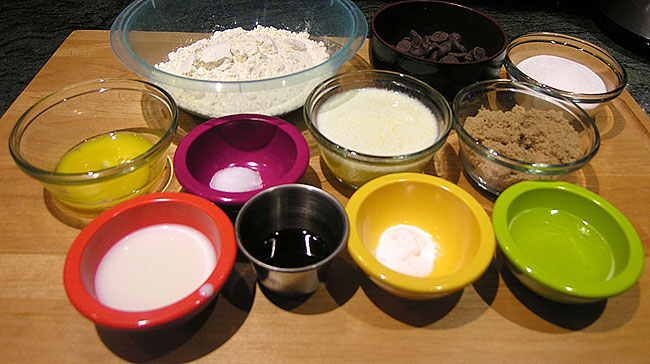 The recipe and detailed instructions are at the end of this post. For this recipe, we need all-purpose flour, salt, baking soda, unsalted butter, granulated sugar, light brown sugar, light corn syrup, egg yolk, milk, vanilla extract, and chocolate chips. Looks like we have it all. Ready, set, bake…
Whisk the flour, salt, and baking soda in a bowl. Air is a leavening agent, we want these cookies as flat as possible, do not over whisk the flour. Whisk the dry ingredients until they are just combined.
In a mixer fitted with the paddle attachment, beat melted butter, granulated sugar, brown sugar, and corn syrup at low speed until thoroughly blended. It should look caramel like when finished.
Add the egg yolk, milk, and vanilla. Mix until fully incorporated and smooth, scraping bottom and sides of the bowl with a rubber spatula a couple times. With the mixer running on low speed, slowly add the dry ingredients into the bowl until just combined. Do not overbeat.
Add the chocolate chips and mix on low speed until distributed evenly throughout the batter. Scoop 1 tablespoon balls of dough onto parchment-lined baking sheets. I'm using a cookie dough scooper I got for Christmas – it works well and gets an even amount for each scoop. Bake 1 sheet at a time, until cookies are deep golden brown and flat, about 12 minutes.
Cool cookies on baking sheet for about three minutes. Transfer the cookies to a wire rack and let sit until crisp and cooled.