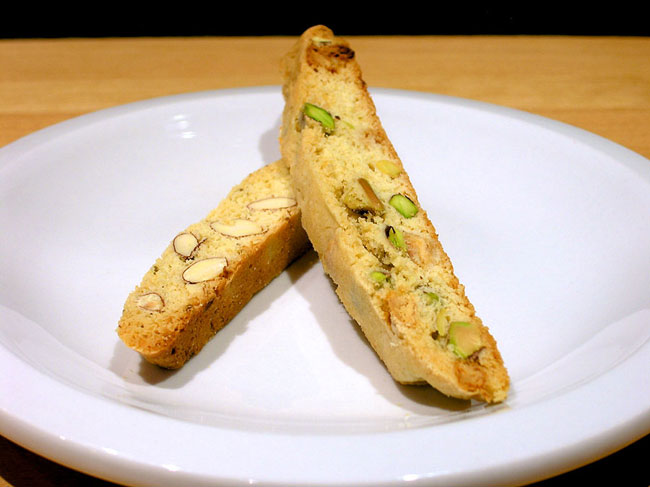 Biscotti are twice-baked cookies, also known as cantuccini. Often they containing nuts, dried fruits and or spices. The hardness of Biscotti is determined by the amount of sugar and eggs in the dough, rather than the baking time. Biscotti are formed by baking the dough in long rolls that are flattened into a slab. Once baked the slabs are cut into slices and baked again until they are toasted and dry. After the second baking, biscotti may be dipped in glazes and topped with nuts etc.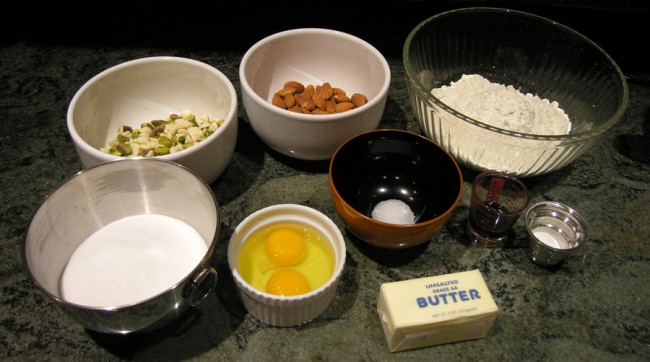 I've measured out all my ingredients and placed them in bowls. It's a bit like a TV show – but I'm doing it in an effort to make sure I have all the ingredients for the recipe. It's a habit I need to get into doing, I sometimes think I have something on hand and I don't. So most my posts of things I've backed at home will probably begin with one of these shots.
The recipe and detailed instructions are at the end of this post. For this recipe, we need sugar, butter, eggs, vanilla extract, flour, baking powder, salt, almond, anise, pistachios and white chocolate chips. Looks like we have it all. Ready, set, bake…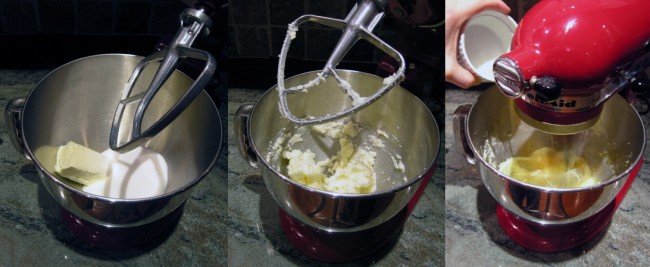 Using a mixer with the paddle attachment, blend the butter and sugar until well combined. Add the eggs one at a time. One egg at a time is important if you were to add all the eggs at once you would end up with a clumpy mess that could not be fixed without excessive beating of the mixture. This would change the texture of the batter when baked – something we don't want to do here.
Add the last of your wet ingredients, the vanilla.

In a bowl place your flour, salt, and baking powder. I use a whisk to incorporate the ingredients evenly. Sifting would add air to the flours were using a whisk adds minimal air while mixing the ingredients evenly. Combining the dry ingredients here is so that you do not have to overwork the mixture when they are combined with the wet.
With the mixer on slow add the dry ingredients slowly to the wet until just incorporated.
Divide the dough into two even amounts – placing one of them in a bowl and keeping the other half in the mixer. Then with the mixer set on low add your garnishes until just incorporated. Place the just mixed batter in a bowl and mixed the plain batter with your other garnishes.
In this case, I did the Pistachios and White Chocolate Chips first. I did this because the other type of garnishes I'm using are Almonds and Anise Seed – the seeds are small and I did not want to have to wash the mixing bowl before mixing the other batch.

Using some flour on your hands, shape the dough into logs on a baking sheet covered with parchment paper. Then flatten the rolls into thick slabs (about 1 inch thick).
With your oven set to 350° bake until firm to touch and golden brown in appearance (20-30 minutes).
Tip: If you find the dough is too sticky to form into rolls, put the dough in the fridge for 15 minutes to harden it a bit.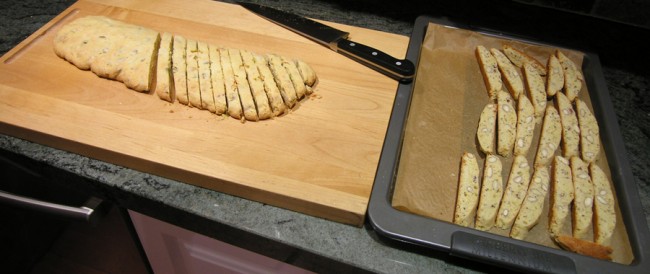 Remove from the oven and allow to cool completely. Set the oven temperature to 320°.
Slice the cooled biscotti logs into 1/2" thick slices. Place the slices on the same baking sheet on their sides and bake for 10-12 minutes.
Recipe: Biscotti
Recipe created by Sara Polczynski 2003.Print Recipe
Yield: about 40 cookies
Ingredients
1 cups sugar
1/2 cup butter, room temperature
2 large eggs
3/4 tbs vanilla extract
2 cups all purpose flour
1/2 tbs baking powder
1/4 tsp salt
Instructions
In a mixer fitted with a paddle, mix the butter and sugar until well blended.
Add the eggs, one at a time, beating well after each addition. Add the vanilla.
In a separate bowl mix together the flour, salt and baking powder and then add to the butter mixture slowly until just incorporated.
Add in almonds and hazelnuts.
With floured hands, shape the dough into skinny logs and place on a parchment lined baking sheet.
Bake at 350° until golden and firm to touch, about 20-30 minutes.
Let cool and slice into 1/2" thick slices, lay flat on same baking sheet and bake at 325° for 10-12 minutes.
You can add whatever ingredients you want to make variations. Keep fruits small so they do not rip the Biscotti when cutting it before the final baking.
Variations
1 Cup Almonds 1 Cup Hazelnuts
1 Cup Chocolate Chips and 1 Cup Cranberries
1 Cup Candied Ginger and 1 Cup Pistachios