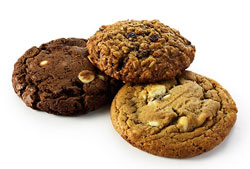 This is the first week of cookies in my baking class (the next will be March 25). We made 4 types of cookies (Drop/Scoop, Rolled/Cut Out, Twice Baked and Piped). We learned about 7 types of cookies:
Drop/Scoop Cookies


Examples: Chocolate Chip, Oatmeal, Peanut Butter
Scoop is used to ensure consistent size, baking time, texture etc.

Rolled/Cutout


Examples: Sugar, Ginger Snaps, chilled dough

Step 1: Creaming. Creaming is mixing fat and sugar in the mixer with a paddle (no air) until light in color, creamy and soft. Do not use higher than 2 on your mixer as it will effect the texture.
Step 2: Adding Eggs one at a time (doing them all at once will cause clumping)
Step 3: Add Flavoring (Vanilla, almond, lemon etc)
Step 4: Add dry ingredients in 3 stages(if you have liquid add alternately starting and ending with dry ingredients)
Step 5: Add garnishes (nuts, chips etc until just incorporated)

Bar Cookies


Examples: brownies, lemon bars, blondes etc

Stencil Cookies (Tuile)


Example: thin cookies that are rolled while hot to create a cylinder or decretive wafer type cookies

Twice Baked Cookies


Example: Biscotti
Playing with eggs and sugar amounts changes hardness of cookie (not the bake time)

Piped Cookies


Example: Spritz
Pastry bag/Metal tube device used to put dough in shape that is retained when cooked

Ice Box Cookies


Example: Frozen Pillsbury Cookies with decorative center (Cookies whose dough is frozen and sliced off when needed)
Benefits: adjustable size, nice looking, use when needed.
General notes about cookies
Use table salt for best absorption (Kosher Salt not as good in baking as in cooking). Sifting eliminates clumps, incorporates all ingredients evenly and introduces air into the flour (air is a leavening agent – changes gluten interaction.) Generally only sift if a recipe calls for it.
Heres what we made today: