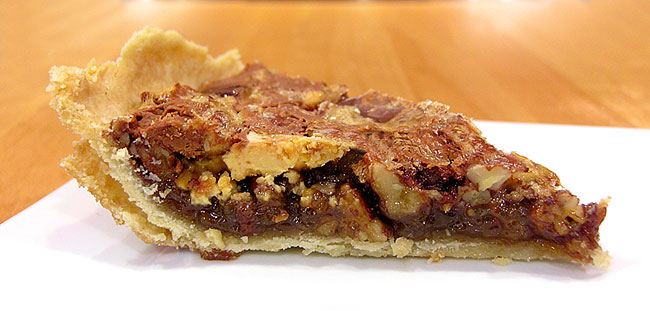 Our friend invited us to go see the French band Air recently. Afterwards, we headed back to our place for dessert, Triple Chocolate Chunk Pecan Pie. The chocolate really makes this pie. You can taste the chocolates and still taste the rich creamy pecan pie filling as well. It's a perfect combination of flavors and texture. I used the Pie Dough for Pre-baked Pie Shell recipe for the crust. Any single pie shell recipe should work, just follow the baking instructions below for the shell.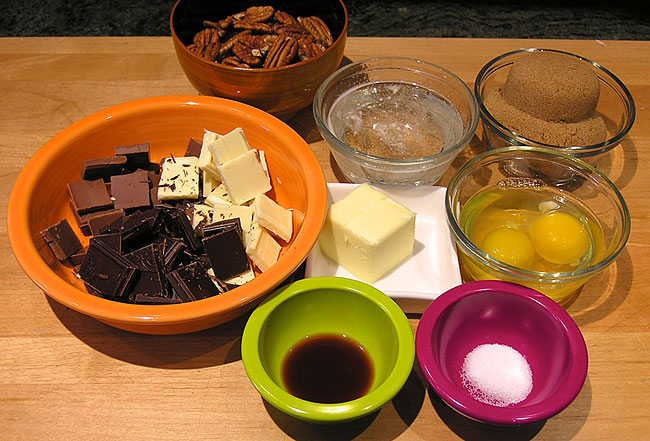 The recipe and detailed instructions are at the end of this post. For this recipe, we need a pie crust, unsalted butter, dark brown sugar, salt, eggs, light corn syrup, vanilla extract, pecans, semisweet chocolate, milk chocolate, and white chocolate. Looks like we have it all. Ready, set, bake…
Adjust oven rack to the lower-middle position, and heat oven to 350°. Place the pecans on a baking sheet and roast them slightly, for about 7 minutes. When the pecans are cool, chop them into small pieces.
Line a pie shell with plastic wrap and place pie weights or beans in it. Making sure no plastic is touching the pie pan, bake the shell for 25-30 minutes.
Melt butter in a water bath (or double broiler) with simmering water.
Remove the butter from the heat and using a wooden spoon, mix the melted butter the sugar and salt, until butter is absorbed. Mix in the eggs.
Stir in the corn syrup and vanilla. Return bowl to a water bath, or a saucepan set on low, and stir until mixture is shiny and warm to the touch, about 130°.
Remove from the mixture from the heat and stir in pecans. Remove the shell from the oven, taking out the weights and return it to the oven for five or six more minutes. Remove the crust and reduce the oven temperature to 275° and move the rack to the center of the oven.
Fill the pie shell with the pecan butter mixture. Placed each type of the chocolate pieces on top of the pie, one at a time to ensure they are evenly distributed.
Gently press the chocolate pieces into the filling with the back of a wooden spoon. Bake 55 to 65 minutes (the center should be gelatin like).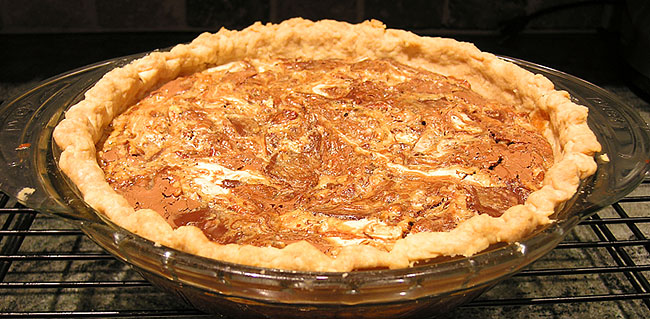 Transfer pie to rack to cool completely, at least 4 hours.