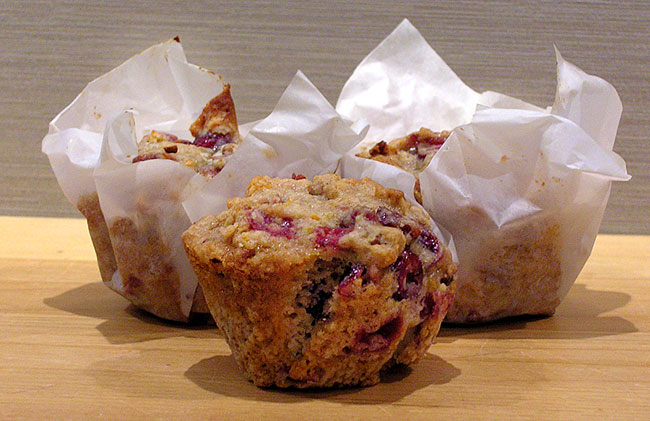 "Hot muffins to warm the inner man – a wonderful addition to any breakfast,
brunch or coffee break. They are good served with supper too"
~ Betty Crocker's Cookbook, 1969 23rd printing.
I wonder if muffins warm a woman's heart too. Betty Crocker didn't say.
I looked at about six recipes to makes these. I ended up pulling parts of each and different techniques from each. I have a lot of cranberries in these, feel free to use less if they are not you're thing. You can also use fresh cranberries if available (just skip the boiling of the cranberries and orange juice and add them at room temperature).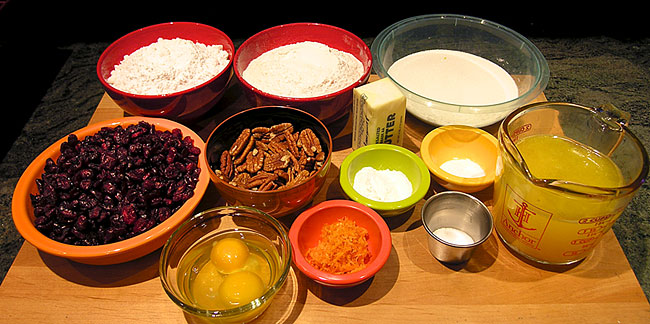 The recipe and detailed instructions are at the end of this post. For this recipe, we need bread flour, cake flour, baking powder, baking soda, salt, orange zest, dried cranberries, pecans, butter, white sugar, eggs, and orange juice. Looks like we have it all. Ready, set, bake…
Place the pecans halves on a metal sheet tray and toast them for about 7 minutes on the middle rack in the oven. While the pecans are toasting, bring the orange juice and cranberries to a boil in a small saucepan and set aside to cool to room temperature. Whisk together flour, baking powder, baking soda, and salt in a bowl.
If you want to use fresh cranberries don't boil them or the orange juice, just add them later when they are mixed into the muffins. You may also want to use fewer fresh cranberries (about a third less).
In a mixer with the paddle attachment, cream the butter and sugar, add each egg, one at a time until smooth.
There is not a lot of butter in these compared to the sugar. When creaming them pay attention to the color, we want it to lighten up a bit, the yellow should dissipate some, the mixture should become a bit like light and fluffy soft sand.
Coarsely chop the cooled pecans. Stir in orange zest and pecans into the flour mixture. Mix in half the flour mixture to the creamed butter, sugar and eggs until just combined.
It's important to chop the pecans once they have cooled. If you chop warm pecans they will pulverize too much. If you are using fresh cranberries add all the flour in this step. I added half the flour to protect the butter from melting, in case the boiled orange juice and cranberries we not cool enough.
Make sure the cranberries and orange juice are room temperature or cool. I stuck mine in the freezer for a few minutes to make sure it had cooled completely. Stir in cooled orange juice and cranberries. Beat in the remainder of the flour mixture until just moistened.
A few weeks ago Starbucks was giving away free pastries. I chose one of there muffins, which came wrapped in a single piece of parchment paper made into a liner. I recreated that here. I cut 5-inch by 5-inch squares and placed them in the muffin tin while filling the muffins. It worked great. My paper is thick and required me to hold it down until a scoop of the batter is placed into the liner. Thinner paper placed in a tin treated with non-stick spray would hold better and not require you to hold the liner in while filling it. You can use regular cupcake tins too.
Bake for 24 minutes in the preheated oven, or until the muffins spring back when lightly touched. Depending on your oven, you may want to turn the tins around at 12 minutes to ensure even baking. My oven bakes fairly evenly, however on muffins and some cakes I need to turn them (the color on the top of a light colored muffin or cake will show any spots in your oven that have temperature variations). Let cool in muffin tins for 10 minutes, then cool on a wire rack. If you want these served warm, put them in an oven at 325° for 5 minutes.