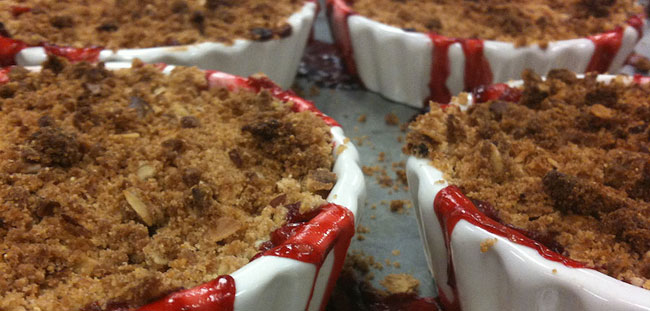 This week's class covered fruit desserts. In San Diego most types of fruit are available throughout the year, however, that does not mean it's at it's prime. When choosing fruit, for a bakeshop or even personal use, it's important to take into account the fruits seasonality. If the fruit is available, how much does it cost, is it fresh and is the flavor acceptable? In addition to seasonality, its important to factor its effect on the environment and shipping cost.
Depending on where one lives, fruit is available and in season at different times. In addition, many fruits are available in more than one season. It often stretches into two seasons or is available a couple times a year (as is the case with mangos). This is not a complete list, rather a list of fruits used commonly in baking in San Diego:
Spring Fruit
Strawberries (stretches into early summer)
Citrus
Tropical

Banana
Pineapple
Mango
Kiwi
Papaya
Passion Fruit
Star Fruit
Guava
Mango
Summer Fruit
Berries
Stone fruits

Peaches
Cherries
Nectarines
Apricots
Plums
Melons (start at end of spring)
Watermelon
Cantaloupe
Honeydew

Lychee
Longan
Fall Fruit
Apples
Pears
Quince
Pomegranates (into winter)
Pumpkins
Squash
Persimmons
Figs (short season)
Grapes
Cranberries
Winter Fruit
Citrus

LemonsLimes
Grapefruit
Oranges
Tangerines
Kumquats
Kiwi

Dragon Fruit
There are also seven fruits, called the "Seven Deadly Fruits," that have an enzyme that reacts with gelatin so the fruit must be cooked before using them with gelatin.
Seven Deadly Fruits
Pineapple
Kiwi
Papayas
Peaches
Mangos
Guavas
Figs