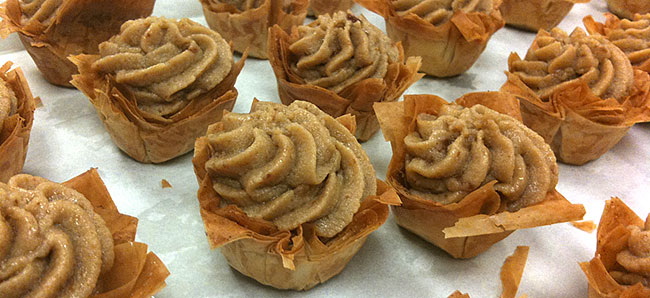 This week in baking class we covered Cheesecakes and Souffles. I've made a few cheesecakes before, but never a souffle. I don't think I have even had a dessert souffle before. This was originally scheduled for last week, however, our instructor was sick. Luckily the schedule for the class has a built-in make up day so we still get to cover all the planned topics, just a week later.
Cheesecake is really a custard (cooked milk, sugar, and egg yolk mixtures) with a bottom crust. The crust can be composed of nearly anything; graham cracker, spices, nuts, Oreos, you name it. If the crust is just on the bottom the sides may turn brown and if the crust partway up the side of the custard it is sometimes difficult to keep it there. Partially baking a crust before the final baking with the custard in the form will produce a crisper crust.
The filling can be made the day before and refrigerated. The process of making the custard is similar to creaming. Using a paddle attachment, we don't want air in this, soften the room temperature cream cheese well, add the sugar (the sugar loosens the cream cheese when its mixed in), each egg at a time and finally the flavorings. Scrape the bowl often for consistency, make sure bottom is scraped.
There are many different ways to bake a cheesecake, its best to follow the recipe. Springform pans don't need parchment paper, butter crusts create enough oil for easy release. A recipe that uses a high temperature at first and then reduces it sets and then bakes custard. Convection ovens are not a good choice for cheesecake or any gentile custard, it will brown them too much. Cracking is caused by not mixing enough, over mixing but mainly from over baking. The middle of the cake should still move a little when it comes out, if it does not you have over baked the cake. The custard will continue to bake outside of the oven during the cooling process. If using a water bath use large foil, do not piecemeal the foil together or liquid will get into your cheesecake.
Souffle is French to breathe or blow. A soufflé is a light, fluffy, baked cake made with egg yolks and beaten egg whites combined with various other ingredients and served as a savory main dish or sweetened as a dessert. Every souffle is made of two parts, pastry cream enhanced with flavoring and French meringue (sugar and raw eggs). These are baked in a ramekin. Its very important not open the oven at all during the baking process or it will fall. Souffles need straight-sided containers that are coated (butter and sugar or butter and hard cheese etc) in order to allow the batter to get height during the baking process. A sauce is usually served on the side.
Some rules for souffles
Avoid over deleting the base, it needs the structure of the pastry cream.
Whip the egg whites correctly to soft peaks.
Fold meringue in well, work fast and take control its not that gentile.
Fold in meringue with a large spatula
Heres what we made today: