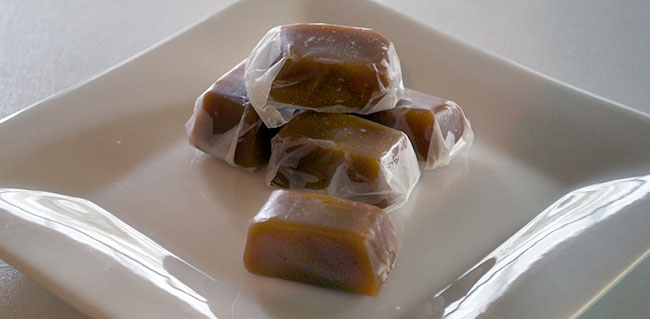 Caramel candy originated in America. It's use dates to the seventeenth century when it was a hard candy. Around 1850, it was discovered that by adding milk and fat, rather than water, to the cooked sugar mixture, resulted in a chewy candy.
This recipe makes excellent caramel candies. You can use dark or light brown sugar with good results. The hardest part of making them is waiting 24 hours before cutting them. You will want to wait though, they're much easier to cut and handle after 24 hours.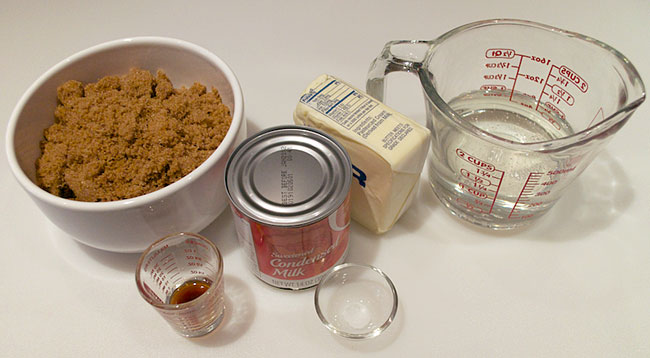 The recipe and detailed instructions are at the end of this post. For this recipe we need unsalted butter, dark brown sugar, sweetened condensed milk, salt, light corn syrup, and vanilla extract. Looks like we have it all. Ready, set, bake…
When making sugar based candy the very fist thing you should always do is calibrate your candy thermometer. Every degree counts when working with sugar, even just a couple degrees off can ruin the intended results. To calibrate simply bring a couple cups of water to a full boil and place the candy thermometer in the boiling water. Water boils at 212°, so if your thermometer is showing something different remember to adjust the desired temperate accordingly. Mine is too hot by about 7° this time. To adjust I subtract 7° from the final temperature I'm trying to reach.
For the next 40 minutes you are going to be stirring constantly, make sure you have everything you need ready and a tolerance for repeated movements. Working with hot sugar is not a good activity for kids or pets, so remove them from the kitchen if possible. Melt butter in a large heavy bottomed saucepan. Add the brown sugar and salt, stirring until incorporated.
Stirring until incorporated. Blend in light corn syrup and sweetened condensed milk. It may not completely be incorporated, once it heats up and the sugar starts to melt everything will come together, so don't worry to much if a little of the melted butter is floating on the sides.
Stir constantly over medium heat to 245°F on a candy thermometer. The color will get darker and the thickness will increase the closer it gets to 245°F. If you don't reach 245°F the caramel will be softer but hard to work with and if you go over 245°F the caramel will be harder (possibly to hard to eat safely with dental work). Remove from heat and stir in vanilla extract. The extract is added at the end so it's flavor is not cooked out, which would be the case with all alcohol based extracts.
Pour into a greased pan, without scraping the bottom of sauce the pan. Cool for at least 24 hours (as hard as that might be). Cut into desired size and wrap in waxed paper. Caramels keep for weeks when wrapped in a airtight container.